Specification
Pacific Plastics ASTM D2729 PVC pipe is produced for Sewer/Drain and other non-pressure applications. The compound is PVC 1120 Type 1 Grade 1, with a cell class of 12454B per ASTM D1784.
Pacific Plastics produces its Sewer & Drain pipe in strict compliance to ASTM D2729. The solvent cement shall comply with ASTM D2564.
PVC Sewer/Drain pipe ASTM D2729 is produced in White color and in 10 foot lengths only and is available both in Solid and Perforated.
Perforated pipe specification:
2 rows of holes, 120° apart, parallel to the axis of the pipe
Holes are 1/2″ in diameter and are on 5″ center
The outside diameter and wall thickness of PVC Sewer/Drain ASTM D2729 are measured in accordance to ASTM D2122 and are shown in the following table:
| Size | OD | T | C |
| --- | --- | --- | --- |
| 3 | 3.250 | 0.070 | 1.50 |
| 4 | 4.215 | 0.075 | 1.75 |
| 6 | 6.275 | 0.100 | 3.00 |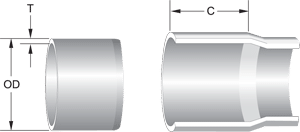 OD – Outside Diameter
T – Wall Thickness
C – Approximate Bell Depth