Specification
Pacific Plastics Electrical Conduit is produced for the conveyance of electrical wires, above or below ground. The compound is PVC 1120 Type 1 Grade 1, with a cell class of 12454B per ASTM D1784.
Our Sch40 Electrical Conduit is produced in strict compliance to UL 651 and NEMA's TC-2. It can be installed both in the underground and above ground applications.
Sizes of 1/2″ – 6″ are produced in Grey color, 20 foot and 10 foot lengths Belled End.
The dimensions of the Sch40 conduit per UL 651 are shown in the following table:
| Size | OD | T | C |
| --- | --- | --- | --- |
| 1/2 | 0.840 | 0.109 | 1.00 |
| 3/4 | 1.050 | 0.113 | 1.25 |
| 1 | 1.316 | 0.133 | 1.50 |
| 1 ¼ | 1.660 | 0.140 | 1.75 |
| 1 ½ | 1.900 | 0.145 | 2.00 |
| 2 | 2.375 | 0.154 | 2.25 |
| 2 ½ | 2.875 | 0.203 | 2.50 |
| 3 | 3.500 | 0.216 | 3.25 |
| 3 ½ | 4.000 | 0.226 | 3.25 |
| 4 | 4.500 | 0.237 | 4.00 |
| 5 | 5.625 | 0.258 | 4.00 |
| 6 | 6.625 | 0.280 | 6.00 |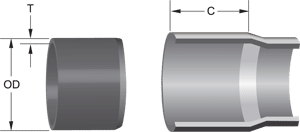 OD – Outside Diameter
T – Wall Thickness
C – Approximate Bell Depth