Specification
Pacific Plastics IPS Schedule series of PVC pipe is produced for use in reclaimed water applications in which the maximum operating temperature is 140° F. The compound is PVC 1120 Type 1 Grade 1, with a cell class of 12454B, per ASTM D1784.
The Schedule series listed below is produced in strict compliance to ASTM D1785. It is listed with NSF and complies with NSF/ANSI Standard 14 and Standard 61.
Sch40 pipe is installed per ASTM D2855. The joints should conform to ASTM D2672, the solvent cement to ASTM D2564 and the primer to ASTM F656.
Cycle Flow Sch40 for use in Reclaimed Water applications:
Sizes 1/2″ – 8″ are produced in Purple color, 20 foot lengths and Belled End.
The outside diameter and wall thickness of Sch40 pipe are measured in accordance to ASTM D2122 and are shown in the following tables:
| Size | OD | T | C | PSI |
| --- | --- | --- | --- | --- |
| 1/2 | 0.840 | 0.109 | 1.00 | 600 |
| 3/4 | 1.050 | 0.113 | 1.25 | 480 |
| 1 | 1.315 | 0.133 | 1.50 | 450 |
| 1 ¼ | 1.660 | 0.140 | 1.75 | 370 |
| 1 ½ | 1.900 | 0.145 | 2.00 | 330 |
| 2 | 2.375 | 0.154 | 2.25 | 280 |
| 2 ½ | 2.875 | 0.203 | 2.50 | 300 |
| 3 | 3.500 | 0.216 | 3.25 | 260 |
| 4 | 4.500 | 0.237 | 4.00 | 220 |
| 6 | 6.625 | 0.280 | 6.00 | 180 |
| 8 | 8.625 | 0.322 | 6.00 | 160 |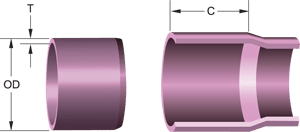 Size – Inch
OD – Outside Diameter
T – Wall Thickness
C – Approximate Bell Depth
PSI – Pressure Rating