Specification
Pacific Plastics gravity Sewer pipe is produced for use in non-pressure drainage of sewage and surface water. The compound is PVC 1120 Type 1 Grade 1, with cell class of 12454B per ASTM D1784.
Pacific Plastics produces its SDR35 series of pipe in strict compliance to ASTM D3034. This product is listed with NSF.
Gasketed PVC Sewer pipe is produced in green color and in 20 foot lengths. Solid pipe is produced from 4″ to 18″ and perforated pipe is produced from 4″ to 8″.
Pipe specification
For the integral bells, Reiber Gaskets are used that conform to ASTM F477.
The joints shall conform to ASTM D3212.
Perforated pipe specification
2 rows of holes, 120° apart, parallel to the axis of the pipe
Holes are 1/2″ in diameter and are on 5" center
| Size | OD | B | C | D | T |
| --- | --- | --- | --- | --- | --- |
| 4 | 4.215 | 5.00 | 5.00 | 4.50 | 0.120 |
| 6 | 6.275 | 7.23 | 6.00 | 5.50 | 0.180 |
| 8 | 8.400 | 9.50 | 8.00 | 7.00 | 0.240 |
| 10 | 10.500 | 11.85 | 9.00 | 8.00 | 0.300 |
| 12 | 12.500 | 14.00 | 9.25 | 8.25 | 0.360 |
| 15 | 15.300 | 16.95 | 9.50 | 8.00 | 0.437 |
| 18 | 18.701 | 20.40 | 10.50 | 9.00 | 0.499 |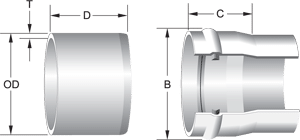 Size – Inch
OD – Outside Diameter
B – Approximate Bell Diameter
C – Approximate Bell Depth
D – Insert Mark
T – Wall Thickness